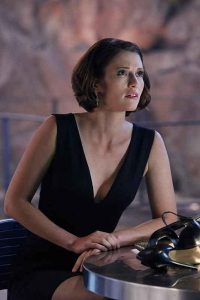 American actress Chyler Leigh started her Hollywood career in the mid '90s. Her first significant role was on the TV series Safe Harbor. She next appeared in three episodes of 7th Heaven. Mainstream prominence came in the early 2000s courtesy of her role as Janey Briggs on Not Another Teen Movie. Afterwards she starred on the short-lived sitcom That '80s Show. She also had a notable role on the TV series Girls Club. Her next movie was in The Practice. Her most significant role on the small screen was as Dr. Lexie Grey on Grey's Anatomy. As of 2015, she stars as Alex Danvers on Supergirl. Prior to this, she starred on the TV series Taxi Brooklyn.
The 34-year-old actress has maintained her slender figure all these years. The actress actually revealed she had some health issues during her younger years that made her skinny. She said: "I've always had problems with digestion, but when I was 19, doing drugs and drinking, I ended up getting really sick. I couldn't hold food in my body. You could see my bones everywhere. I had to go to a doctor to try to regulate my system." She made herself better by changing her diet. She started eating lean protein, like fish and chicken and increase the amount of vegetables she eats.
Further, she said: "Now we eat very well in our house, with as much organic food as possible, as well as lots of vegetables and fruits." She also added that she's been trying the Blood Type Diet. The name obviously implies that there's a specific diet that's more suitable for one's blood type. Being Type A, she said she's been sticking to a mostly vegetarian diet, but she also sometimes eat fish and poultry as she needs protein as well. She avoids red meat because the Blood Type Diet states that people with Type A have low stomach acid.