Early Comedic Career and Breakthrough on SNL
Amy Meredith Poehler was born on September 16, 1971 in Newton, Massachusetts to high school teachers Eileen Frances and William Grinstead Poehler. She attended Burlington High School and graduated in 1989. She then enrolled at Boston College, where she became a member of My Mother's Fleabag, America's oldest collegiate improv comedy troupe.
In 1993, she graduated from Boston College with a bachelor's degree in media and communications. She later relocated to Chicago where she studied improvisational theatre at Second City. She also studied at ImprovOlympic. She later joined Upright Citizens Brigade, where she and the others performed sketch and improv in Chicago.
They later moved to New York in 1996 and immediately landed a gig on television where they appeared as sketch regulars on Late Night with Conan O'Brien. Upright Citizens Brigade then debuted on Comedy Central but their half-hour sketch comedy series was cancelled after its third season in 2000.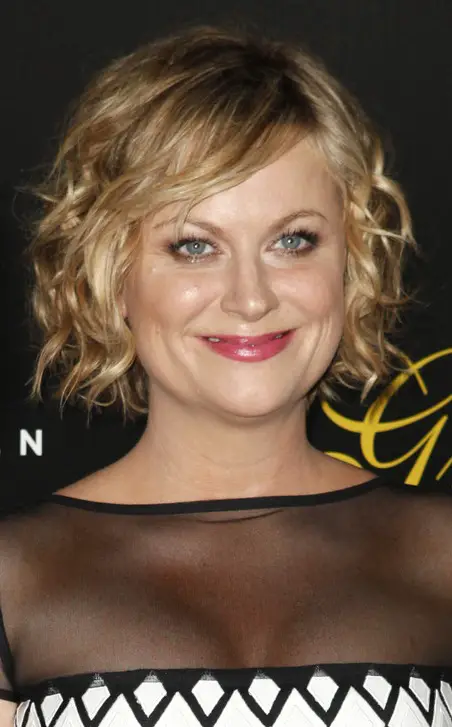 Poehler gained further gained recognition on television when she joined the cast of SNL in 2001. She was then promoted from featured player to full cast member in her first season in the program. In 2004, she replaced Jimmy Fallon as co-anchor in the segment Weekend Update along with Tina Fey.
In 2008, she was nominated for a Primetime Emmy Award for Outstanding Supporting Actress in a Comedy Series. For this achievement, she became the first SNL cast member to be recognized in this category. She was nominated again for the same category the following year.
In October 2008, she left SNL when she gave birth to her child and returned in December of that year. In December 13, she announced that it would be her last show, though she has since returned for some episodes. She was then cast for the lead role of Leslie Knope in the NBC series Parks and Recreation, which premiered on April 9, 2009.
Her performance in the show was critically acclaimed that she won a Critics' Choice Television Award for Best Actress in a Comedy Series in 2012 and a Golden Globe Award for Best Actress – Television Series (Musical or Comedy) in 2014.
She was also nominated for a Primetime Emmy Award for Outstanding Lead Actress in a Comedy Series consecutively from 2010 to 2013. She then wrote and directed the episode "The Debate" during its fourth season, for which she earned a Primetime Emmy Award nomination for Outstanding Writing for a Comedy Series in 2012. She was also nominated for the Writers Guild of America Award for Television: Episodic Comedy.
Poehler's film career initially began in 1998 when she appeared in the low-budget movie Tomorrow Night. The following year, she appeared as Ruth in Deuce Bigalow: Male Gigolo. In 2001, she starred as Susie in the comedy feature Wet Hot American Summer, which was a critical and commercial failure but has since developed a cult following.
In the next few years, she starred in the movies Mean Girls, Envy, Southland Tales, Tenacious D in The Pick of Destiny, Man of the Year, The Ex, Blades of Glory, Shrek the Third, Mr. Woodcock, Shortcut to Happiness, Hamlet 2 and Horton Hears a Who!.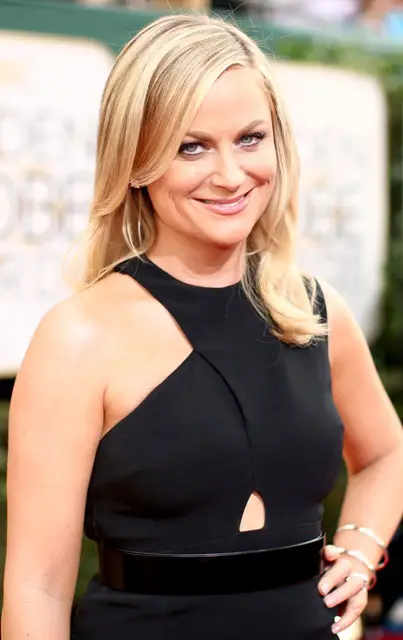 Feature Films and Plastic Surgery Rumors
She next starred alongside Tina Fey in the comedy film Baby Mama. Reception for the movie was positive and it also proved to be a box office success, earning more than $64 million on a $30 million budget. For her performance, she was nominated for an MTV Movie Award for Best Comedic Performance.
She then went on to provide voice work for such films as Monsters vs. Aliens, Alvin and the Chipmunks: The Squeakquel, Hoodwinked Too! Hood vs. Evil, and Alvin and the Chipmunks: Chipwrecked. She recently made a cameo appearance in the hit film Anchorman 2: The Legend Continues and starred in 2014's They Came Together. She will star in the upcoming movies Inside Out and The Nest.
The Parks and Recreation star sparked rumors of cosmetic enhancements when she hosted the 70th Golden Globe Awards in 2013. Onlookers instantly noticed how the 42-year-old comedian looked flawless that contributed to her overall charm in addition to her comedic talent.
According to rumors, Poehler is possibly a Botox user, which helps her maintain a smooth and radiant-looking skin. Unlike other actresses who look like plastics, Poehler manages to maintain a natural face, with movement and all, as she makes sure she only gets the right amount of Botox into her face.
Expert Dr. Guida said that the Saturday Night Live comedian is the perfect example of how small doses of injectables can still work effectively with the natural movement of the face. She also confirmed that Poehler has had Botox in her crow's feet and possibly some Restylane in her lips as well.