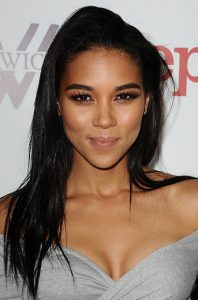 Alexandra Shipp is now one of Hollywood's most promising young stars. She started her acting career in 2009, playing Valentina in the movie Alvin and the Chipmunks: The Squeakquel. She next landed a one-episode role on the TV series Switched at Birth, followed by another guest appearance on Victorious.
She later landed her first regular role on TV — as KT Rush on House of Anubis. She next had guest roles on Awkward, Ray Donovan, and Days of Our Lives. In 2014, she starred on the TV movie Drumline: A New Beat, as well as portrayed singer Aaliyah on the TV film Aaliyah: The Princess of R&B. She went on to play the part of Kimberly Woodruff in the movie Straight Outta Compton.
She gained mainstream fame after landing the role of Storm in 2016's X-Men: Apocalypse. She next had performances in the films Tragedy Girls, Spinning Man, Love, Simon, and Dude. In 2018, she made a cameo as Storm in Deadpool 2. More recently, she starred in the film A Dog's Way Home. She will reprise her role as Storm in the upcoming superhero feature Dark Phoenix.
The actress has an amazing figure that she maintains by eating clean. For starters, she's a vegan so her diet is entirely plant-based. She finds eating meat repulsive, plus her body doesn't take it well. She's since discovered that eating more fruits and veggies is what gives her energy.
She also avoids eating processed and junk foods. Instead, she focuses on consuming ones that give her body nutrition. Her vegan diet is also what helps her maintain great skin and stay away from acne problems. "To counteract the testosterone, I try to eat things with a lot of estrogen. I eat soy. I'm vegan so that balances it too. We are what we eat. I had to figure that out," she said.