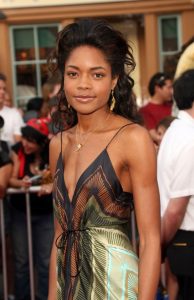 English actress Naomie Harris first appeared in the TV series Simon and the Witch in 1987. During the 1990s, she starred in the children's series Runaway Bay. She then became known for starring as Ami Jackson in The Tomorrow People. The following decade, she made guest appearances in Dream Team, Trial & Retribution V, and Dinotopia. The actress gained wider recognition for starring as Selena in Danny Boyle's film 28 Days Later. She also played the recurring role of Clara in White Teeth.
Subsequently, she had roles in the movies Trauma and After the Sunset. She achieved greater success on the big screen, landing the part of Tia Dalma in Pirates of the Caribbean: Dead Man's Chest. She reprised her role in the sequel Pirates of the Caribbean: At World's End. In 2008, she played the titular character in the TV movie Poppy Shakespeare. Harris next starred in another TV film Small Island.
At the same time, she had performances in the feature films Street Kings, Miami Vice, Explicit Ills, Ninja Assassin, and Sex & Drugs & Rock & Roll. Later in the 2010s, she played Eve Moneypenny in the James Bond film Skyfall. She also portrayed Winnie Mandela in the movie Mandela: Long Walk to Freedom. She reprised her role as Eve Moneypenny in Spectre and also had a supporting role in Southpaw. More recently, she starred in the movies Rampage and Mowgli: Legend of the Jungle.
The 43-year-old actress maintains her toned figure thanks to her workout routine. One of her healthy routines is starting her day early in the morning. It allows her to be more productive. Plus she also allots morning hours for exercise. "I like to do a bit of exercise to get my heart pumping…I also meditate, and then I do my morning pages as well, so I just kind of write whatever comes into my head, kind of my mini diary," said the actress.