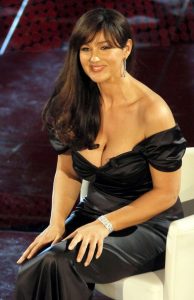 Italian star Monica Bellucci has been acting since 1990. She debuted in the Italian TV movie Vita coi figli. The following year, she made her film debut in The Raffle. Later, she pursued a career in Hollywood. Her first work in an American film was in 1992's Bram Stoker's Dracula. The next couple of years, she mostly worked in Italian cinema. She also began working in French cinema, debuting in 1996's The Apartment.
In 2000, she starred alongside Morgan Freeman and Gene Hackman in the film Under Suspicion. That same year, she played the titular character in the movie Malèna. This was followed by the French films Brotherhood of the Wolf and Astérix & Obélix: Mission Cléopâtre, the latter of which she starred as Cleopatra. Her next performances were in the French movie Irréversible and the Italian feature Remember Me, My Love.
She came to wider prominence for playing Dr. Lena Fiore Kendricks in the Hollywood film Tears of the Sun and Persephone in The Matrix Reloaded. She reprised her role as Persephone in The Matrix Revolutions. In 2004, she portrayed Mary Magdalene in The Passion of the Christ and starred alongside Matt Damon and Heath Ledger in The Brothers Grimm. Belluci went on to star in the films Shoot 'Em Up and The Private Lives of Pippa Lee. In the 2010s, she played Lucia Sciarra in the James Bond film Spectre.
The Italian beauty doesn't consider herself a gym regular but she does live an active lifestyle. "It's impossible to go to the gym with my hectic lifestyle. To get up at 5 in the morning to start exercising at the gym at 6? It's not worth it! Instead of strenuous exercises in the gym, I often wear black. It's much more convenient and fun," said the actress. Instead, she spends her free time swimming, running, and yoga. "I am like a shark, I am always on the move, I have to in order to stay alive," she said.