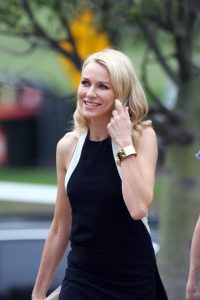 Naomi Watts is a British actress turned producer. She started her career in Australia in the 1980s, appearing on both television and the big screen. In the 1990s, she pursued a Hollywood career, though mostly appearing in B-movies, only having a significant role on the TV series Sleepwalkers. Her big break came when David Lynch finally noticed her and cast her in his movie Mulholland Drive. She immediately became a mainstream star afterwards, starring in the US version of the horror film The Ring. This was followed by a critically acclaimed performance in 21 Grams. She also became internationally recognized for starring in the remake of King Kong. Her leading role in 2012's The Impossible got her an Oscar nomination for Best Actress.
Naomi is nearing her 50s but everyone can attest to the fact that she still looks younger and gorgeous. This is because the King Kong actress abides by her healthy lifestyle. This includes eating healthy and working out regularly. She likes doing cardio exercises such as running, biking, and swimming. These simple exercises help her keep in shape and enhance her stamina. Being a mother of two, a wife, and a prolific actress, energy and strength are something that are crucial for her.
With her trainer, she is instructed to focus on the movements that work her entire body while keeping her heart rate up as she doesn't really have much time to workout. According to her trainer, the actress' favorite moves that work well on her abs, arms, shoulders, and butt are: Hip Press to challenge her shoulders and butt for 15 to 20 reps, repeating on the other side; the Airplane for her abs and arms for up to 10 to 15 reps, and the Diagonal Lift where her entire body needs to work for the purpose of stabilizing her core.