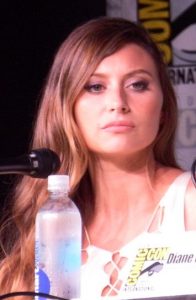 Hollywood actress Aly Michalka got her debut on television as Keely Teslow on Phil of the Future. She next starred on the TV movies Now You See It…, Cow Belles, and Super Sweet 16: The Movie. By 2009, she had made her cinematic debut in Bandslam. Her acting career flourished in the 2010s, playing the lead on the cheerleading drama series Hellcats. She next played recurring character Brooke on the sitcom Two and a Half Men. As of 2015, she stars as Peyton Charles on iZombie. She has also played supporting roles in the films Easy A, The Roommate, Grown Ups 2, Killing Winston Jones, and Sequoia.
Looking at her body, it's obvious Aly takes care of herself by practicing a healthy lifestyle. Surprisingly though, the actress is not really into fat dieting and fitness plans we often hear at the gym. She keeps it simply by just eating healthy and drinking lots of water. For her, hydration is important to keep her skin healthy and her metabolism fast. She also makes it a point that she still eats whatever she wants. She's a food lover and doesn't like the idea of depriving herself of the foods she loves just to look skinny.
At the same time, she practices portion control. She believes she can still eat the foods she loves as long as she does in moderation. According to the actress, she also likes eating string cheese, carrots with ranch, and edamame. Aside from these, she also loves to eat sushi, tacos, and pasta. She also drinks 2-3 liters of water everyday to keep her body hydrated and healthy overall. She also tries her best to eat balanced meals consisting of lean protein, whole grains, and fruits and vegetables. She also likes indulging in some junk foods every now and then but as mentioned, she eats them in moderation.