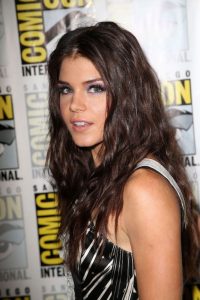 Canadian actress Marie Avgeropoulos started her acting career in the late 2000s. Her first TV role was in an episode of Supernatural, while her first movie appearance was in I Love You, Beth Cooper. She went on to make guest appearances on Harper's Island and The Guard. She next appeared in the movie Percy Jackson & the Olympians: The Lightning Thief. Her first recurring part was on the sitcom The Inbetweeners and next was on Cult. She became further known in 2014 as Octavia Blake on The 100. She still stars on the show up to now. She has also appeared in the films 50/50, Tracers, and most recently in Dead Rising: Endgame.
Standing at 5'5, the 30-year-old actress stays slender through healthy eating. One thing about her food and drink habits is her fondness for tea. In an interview, she said: "It's so hard to talk about myself sometimes. But, I'm obsessed with tea. Any kind of tea I can get my hands on. I have about twenty types of tea in my kitchen right now and I drink it every chance I get. My ritual is to take a cup of tea and then shower before bed." Tea, especially green tea is known for its health benefits and slimming properties.
She also focuses on consuming nutritious foods. Mostly, these are lean proteins, whole grains, fruits and vegetables. That's why it's important for her to start her day healthy with a well-balanced breakfast. This keeps her at high energy levels throughout the day. With her regular gig on The 100, she needs to feel invigorated all the time and healthy eating helps her achieve this. In the morning, she usually has whole grains or oats. Sometimes she has eggs with, tea, of course. For lunch, she goes for chicken or fish. For dinner, she goes for a warm bowl of soup and pasta with chicken or tuna.