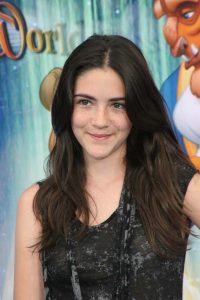 American actress Isabelle Fuhrman had her career beginnings in the mid-2000s. She first appeared in an episode of the TV series Justice. She next made her cinematic debut in the film Hounddog, as well as guest-starred in Ghost Whisperer. She gained recognition when she starred as Esther in the psychological film Orphan. In the 2010s, she had a voice role in the films Sammy's Adventures: The Secret Passage and From Up on Poppy Hill.
In 2012, Fuhrman portrayed Clove in the movie The Hunger Games. She next had a voice role in an episode of Adventure Time. She went on to appear in the films The Between, All the Wilderness and Snow Queen 2. In 2015, she played recurring character Tessa Johnson in Masters of Sex. Following this, she had performances in the films Cell, Dear Eleanor, and One Night. Her latest works on the big screen were in the 2018 movies Down a Dark Hall and Hellbent.
The young actress has a healthy diet plan, which helps her not only stay in shape but also make her feel amazing from the inside and out. The Isabelle Fuhrman diet plan starts with a good breakfast. "Fauchon tea and egg whites with spinach, mushrooms and truffle salt. I sometimes put avocado on top if I'm feeling extra hungry," said the actress.
She's also into smoothies, which help her feel fuller for longer. Her go-to smoothie? "I get a Green Genie juice (celery, parsley, spinach, kale, romaine, apple, ginger, lemon) and add frozen banana and almond to it. It becomes a full meal that tastes like dessert but has all these vegetables," she shared.
Because it's usually find something healthy when shooting, she brings her own healthy food with her. "Soupelina soup is always in my set fridge. There are very rarely healthy options on set to eat so having it in my fridge is perfect," revealed the young star.