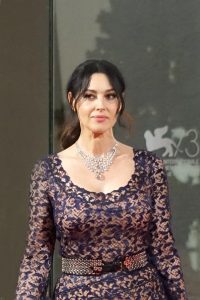 International actress Monica Bellucci started acting in her native Italy in 1990. Shortly after, she had her first Hollywood appearance in the 1992 movie Bram Stoker's Dracula. After starring in some Italian films, she starred in the French movie The Apartment. In the 2000s, she starred alongside Morgan Freeman and Gene Hackman in the film Under Suspicion. That same year, she played the lead in the film Malèna.
In the next couple of years, Belluci portrayed Cleopatra in Astérix & Obélix: Mission Cléopâtre, as well as starred in the French film Irréversible. In 2003, she starred opposite Bruce Willis in the movie Tears of the Sun. Later, she became further known for her role as Persephone in The Matrix Reloaded and The Matrix Revolutions. Following this, she portrayed Mary Magdalene in The Passion of the Christ.
She continued working in major films, this time starring opposite Matt Damon and Heath Ledger in The Brothers Grimm. In 2007, she collaborated with Clive Owen in the action film Shoot 'Em Up. Before the decade ended, she also starred in the Hollywood film The Private Lives of Pippa Lee. In the 2010s, she had starring performances in the movies The Sorcerer's Apprentice and Spectre. Her latest movie was in 2019's The Best Years of a Life.
Not only does the Italian star work out, she also stays healthy through proper nutrition. While she doesn't follow any specific diets nor does she engage in any crash diets, she watches her weight and overall health by practicing in moderation.
With her curvy figure, Belluci doesn't aspire to become thinner. So, she eats whatever she wants just as long as it's not excessive. Her favorite, of course, is Italian cuisine, which only means that she doesn't deprive herself of some amazing pasta. She also makes sure that she eats plenty of fruits and vegetables, as well as drink lots of water.