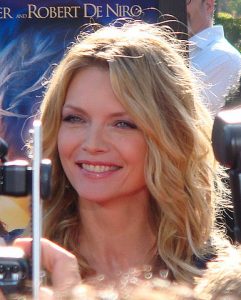 Michelle Pfeiffer first debuted in an episode of Fantasy Island in 1978. Her first starring role on television was as The Bombshell in the sitcom Delta House. In 1980, she made her film debut in The Hollywood Knights. She later played Stephanie Zinone in the film Grease 2. The actress came to prominence for her role as Elvira Hancock in Brian De Palma's Scarface. She later had roles in the films Into the Night, Sweet Liberty, and The Witches of Eastwick.
She next starred in 1988's Dangerous Liaisons, followed by her portrayal of Susie Diamond in the movie The Fabulous Baker Boys.
Her performances here earned her Academy Award nominations, for Best Supporting Actress and Best Actress, respectively. In the 1990s, she she co-starred in Frankie and Johnny opposite Al Pacino. She next portrayed Selina Kyle / Catwoman in Tim Burton's Batman Returns. After this, she starred as Countess Ellen Olenska in Martin Scorsese's The Age of Innocence, as well as portrayed LouAnne Johnson in 1995's Dangerous Minds. Later in 1999, she played Titania in the film A Midsummer Night's Dream.
Her successful film career continued in the 2000s with starring roles in What Lies Beneath, I Am Sam, White Oleander, Hairspray, Stardust, and Chéri. In the 2010s, she had performances in the movies New Year's Eve, Dark Shadows, People Like Us, The Family, Where Is Kyra?, Mother!, and Murder on the Orient Express. She recently played Janet Van Dyne in Ant-Man and the Wasp and Avengers: Endgame. This year, she starred in the film Maleficent: Mistress of Evil. She also portrayed Ruth Madoff in the TV movie The Wizard of Lies.
Michelle Pfeiffer has always been candid about her healthy habits. She sticks to a clean diet plan and active workout routine, which she has since credited for her slender and fit figure. As for her fitness regimen, she just follows the basics. She works out at her home doing stretches and cardiovascular exercises. Recently, she's also tried yoga and Pilates. Also, the actress simply takes walks when doing errands or runs outdoors a couple of times each week.