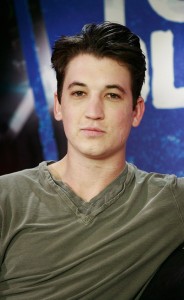 American actor Miles Teller is currently enjoying his new-found success in Hollywood. Officially starting his career in the movies in 2010, he achieved fame just a couple of years later, thanks to his effortless charm and knack for acting. After appearing as a supporting role in a few films, he went on to take the male lead in The Spectacular Now, which received rave reviews. His starring role in Whiplash released in 2014 cemented his status as a talented dramatic actor while his performance in That Awkward Moment that same year also showcased his comedic chops. In addition, he's also known for his supporting role in Divergent and its sequel Insurgent. He recently starred in the superhero film Fantastic Four.
With his action-oriented roles in such movies as Divergent and Fantastic Four, Miles was required to increase his efforts when it comes to working out. More importantly, his upcoming movie Bleed for This, in which he will play the role of a boxer, makes him more serious in practicing his intense training. Aside from imposing a more strict diet to control his weight, Miles also spent much of his time working out.
Before beginning his rigorous training, he weighed about 188 pounds and his body fat was around 18%. Afterwards, he only weighed 168 pounds and 6% was reduced from his body fat. He was noted for doing multiple crunches to achieve his new stone-looking abs, which was important for him to obtain in order to efficiently portray a professional boxer. At first, he thought crunches were enough to achieve great abs, but he was wrong as he learned he needed to combine it with other exercises. He was so determined in achieving a fit and a lean body that Miles would choose to work out even on his free time. Sometimes he would have two hours of break, but instead of resting and relaxing, he'd use the time to exercise more.