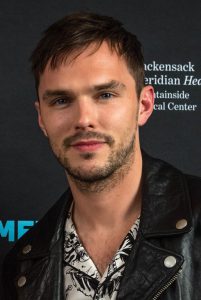 Hollywood star Nicholas Hoult debuted as a child actor in the 1996 film Intimate Relations. In the 2000s, he gained recognition for his role as Marcus Brewer in the movie About a Boy. He later starred in the films Wah-Wah, The Weather Man, Kidulthood, Coming Down the Mountain, and A Single Man. He later became further known for his role as Tony Stonem in the teen series Skins, which he played from 2007 to 2008.
In the 2010s, he first appeared as Eusebios in the movie Clash of the Titans. Hoult garnered widespread prominence for his portrayal of Henry "Hank" McCoy / Beast in 2011's X-Men: First Class. He later co-starred in the films Warm Bodies and Jack the Giant Slayer. He reprised his role as Beast in the sequels X-Men: Days of Future Past and X-Men: Apocalypse. He also played Nux in 2015's Mad Max: Fury Road.
In 2017, he portrayed J. D. Salinger in the biographical drama film Rebel in the Rye, as well as starred in Newness and Sand Castle. He went on to portray Nikola Tesla in The Current War. More recently, he portrayed Robert Harley in the period black comedy film The Favourite. 2019 is also a big year for the actor — he portrayed J. R. R. Tolkien in the film Tolkien and reprised his role as Beast in Dark Phoenix.
The English actor previously played roles that required him to be skinny. But for his role as Hank/Beast in the new reboot of X-Men films, he had to bulk up. He actually enjoyed the process as he was able to eat more, mostly protein, and follow a more vigorous workout routine. He trained more regularly, alternating on cardio and strength training. However, he didn't want to overdo it so implementing balance was key. To further his physical exertions, he also engages in sports and other outdoor activities.