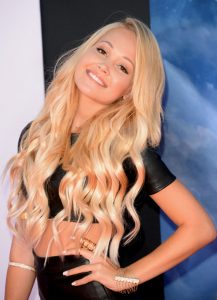 Hollywood star Kelli Berglund got her start in 2006 when she first appeared on the children's show Hip Hop Harry. She performed on the program until 2008. At the same time, she acted in the short film Bye Bye Benjamin. After a few years, she got her break on television, starring as Bree Davenport on the Disney XD series Lab Rats. She was part of the show's main cast from 2012 to 2016. Her starring stint on the show had earned her substantial attention, specifically among teen audiences.
Simultaneously, she played Sloane Jennings in an episode of Kickin' It. She next starred as Mae Hartley in the Disney Channel Original Movie How to Build a Better Boy. In 2015, she made her film debut in One Night. This was followed by her role in the film Raising the Bar. She then continued starring as Bree Davenport on the spin-off series Lab Rats: Elite Force. Her next role was in the TV movie Dolly Parton's Christmas of Many Colors: Circle of Love. In 2017, she had a one-time role on The Night Shift. This year, she had a role in the movie Going for Gold.
Being young and physically active, the actress dons a slender figure. She doesn't worry about gaining weight as of now thanks to her super fast metabolism. On the other hand, she already understands the importance of sticking to a healthy diet. While she doesn't deprive herself of food and indulgences, she makes sure she has healthy meals, at least most of the time. Occasionally, she indulges in pizza, fries, and a really good brownie. Nonetheless, her main diet plan typically includes lean proteins like fish and chicken, whole grain cereal and oatmeal, and, of course, fruits and veggies. She snacks on healthy options as well, including yogurt, fruit shakes, almonds, to name a few.