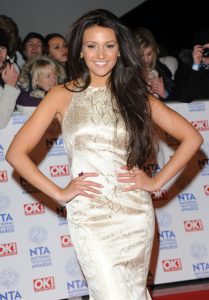 English actress Michelle Keegan got her acting beginnings in the late 2000s. This was after securing the role of Tina McIntyre on the British soap opera Coronation Street, which got her famous. She received British Soap awards for her work here. After her role on the show had ended, she joined the main cast of the short-lived series Ordinary Lies. She then competed on Lip Sync Battle UK and portrayed Queen Elizabeth I in an episode of Drunk History. She then joined the main cast of the British drama Our Girl as Corporal Georgie Lane, a role she has been playing since 2016.
Michelle also wows her fans with her astonishing slender and toned figure. She's blessed with amazing genes, but she also maintains her fit body by working out without a personal trainer because she prefers working out on her own. She said: "I don't have a personal trainer, I just tend to train myself, get the tunes blasting…I feel trapped with a personal trainer." She basically starts in the morning to exercise. Nothing is as great as starting your day with some exercises as it physically and mentally stimulates you. The actress has also revealed to using kettleballs to combine weight training and cardio.
This is more crucial for her especially if she's missed some gym times and has been indulging herself with cocktails. This is also to make sure that balance is practiced. Along with her healthy diet plan, the former Coronation Street actress impresses fans with her toned body, especially her super flat abs. It also shows how disciplined the actress is in taking care of her body and overall health. This is due to the fact that she doesn't rely on a personal trainer to set healthy workout habits. She just does this all by herself.