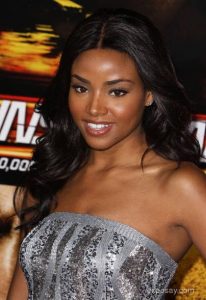 Hollywood actress Meagan Tandy won the Miss California USA title in 2007. She competed in the Miss USA 2007 and finished as third runner-up. Two years later, she made her TV debut in an episode of CSI: NY. She next appeared in 90210 and Secret Girlfriend. In 2010, she had her first movie role in Unstoppable. Subsequently, she landed one-episode roles in such TV shows as 10 Things I Hate About You, Dark Blue, CSI: Miami, Zeke and Luther, and Single Ladies.
In 2012, she starred as Lulu Pope in the comedy-drama show Jane by Design. From 2013 to 2016, she played the recurring role of Braeden in Teen Wolf. Also, she starred in the movie Piranha 3DD. She continued her guest appearances on the small screen, such as in Baby Daddy, Necessary Roughness, Red Band Society, and Stalker. From 2015 to 2017, she had a recurring role as Allison Pierce in the Starz sitcom Survivor's Remorse.
She simultaneously starred as Chantal in UnREAL's Season 2. Next, she had one-time roles in The Mayor and 9JKL. In 2018, she appeared as Summer in 2 episodes of Charmed, a reboot of the series of the same name. This year, she appeared in the film The Trap. It was recently announced that she landed the role of Sophie Moore in the upcoming series Batwoman.
The actress stays in shape by sticking to a clean, balanced diet plan. For starters, she's already cut down on her consumption of sugar. She also avoids salty and fatty foods so no more fast food meals for her, at least not too often. Instead, she focuses on a diet plan that's mostly composed of lean meat, whole grains, and plenty of fruits and vegetables. Moderation is also crucial. Hence, she doesn't allow herself to binge-eat, which is often triggered when one is starving herself to lose weight. How she maintains her healthy weight is quite simple — eat nutritious food with fewer carbs, more proteins from lean meat, and plenty of greens.