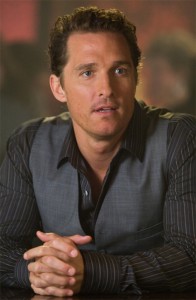 American actor and producer Matthew McConaughey began acting in the early 1990s and immediately caught moviegoers' attention for his role in Dazed and Confused released in 1993. The rest of the 1990s saw him climbed to lead role status on the big screen, such as in A Time to Kill, Amistad, and Contact. The beginning of the next decade had him star in a couple of romantic comedies like The Wedding Planner, How to Lose a Guy in 10 Days, and Ghosts of Girlfriends Past. Afterwards in the 2010s, he decided to shift into other genres, which worked for him really well, winning an Academy Award for Best Actor for his performance in Dallas Buyers Club released in 2013. He has also starred in major hits like Interstellar and had short yet significant roles in The Wolf of Wall Street and Magic Mike.
The 46-year-old actor is at his best despite nearing his 50s. Focusing on taking dramatic roles recently, the actor further established his capacity as a versatile performer. Along with his flourishing career is his lean and fit body, which he achieves through constant workout sessions. When he's not involved in some films, he gets more time exercising, which he does by working with his personal trainer Peter Park.
On a normal day, when he's not looking to achieve a specific body type for a film role, Matthew does pull-ups on his kids' swing set, sprints in his backyard, and push-ups, one-legged squats, kettlebell work in his driveway. Since he's very fond of biking, Matthew preoccupies himself with biking during his free time. For a single-leg squat, he performs five for each and then twice more. On the other hand, he performs pull-ups eight times and also does hand walk, in which he "walks" by only moving his hands and ankles while in a push-up position.