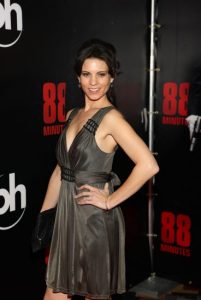 Actress Leah Cairns first debuted with a small role in one episode of The Chris Isaak Show in 2002. Later, she landed another one-time role in Tru Calling. Cairns went on to perform in the TV movies The Reality of Love, Deep Evil, and Saving Milly. Her first starring role on the small screen was as Jenna in Godiva's. She next became widely known for her portrayal of Lt. Margaret 'Racetrack' Edmondson in sci-fi series Battlestar Galactica, which she played from 2005 to 2009.
Simultaneously, she had performances in the films Thralls, 88 Minutes, Kickin' It Old Skool, and Helen. The actress stayed active on television even with some film roles. She starred in the miniseries Sanctuary, as well as played recurring character Emily Hollander in Kyle XY. She then reprised her role as Lt. Margaret 'Racetrack' Edmondson in the miniseries Battlestar Galactica: The Face of the Enemy. The following decade, she had a role in the TV movie Mega Cyclone.
Later in the 2010s, she guest-starred in The Tomorrow People, Fargo, Cedar Cove, and Motive. She also appeared as Lois in Christopher Nolan's film Interstellar. In 2016, she gained wider recognition after landing the part of Kathryn MacLaren in the television series Travelers. She still stars on the show up to present. At the same time, she starred in the TV movie Deadly Sorority and guest-starred in Bates Motel and Supernatural. In addition, Cairns starred in the 2018 movie Diminuendo.
The Canadian actress practices a healthy diet plan. It is crucial not only for weight reasons but for taking care of herself entirely. Generally, she's conscious of the foods she eats on a regular basis. As much as possible, she avoids sugary and fatty foods. Instead, she focuses on a plant-based diet since she has lots of greens and fruits as part of her daily meals. She also snacks on nutritious choices as well, including yogurt, nuts, and fruits.