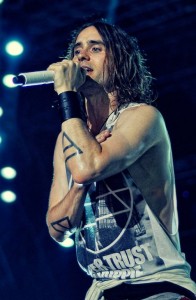 American actor and musician Jared Leto began his acting career on television, first gaining prominence for his starring role on the TV series My So-Called Life. He immediately transitioned to movies making his debut in How to Make an American Quilt released in 1995. Proving his acting capacity, he received praise for his performance in Prefontaine released two years later. In the next few years, he acted in supporting characters in some well-known features like Fight Club. He then began the 2000s for his incredible performance in the drama film Requiem for a Dream in 2000. Around this time, he ventured into music with the band Thirty Seconds to Mars which made him become less prolific in movies as he was more focused with his music career. In 2013, he received acclaim for his supporting role in Dallas Buyers Club, winning him an Academy Award for Best Supporting Actor. He will star as the Joker in the upcoming movie Suicide Squad.
Jared has been in the show business for decades and was able to explore his capacities in several movie genres and even in art forms, which makes him a multi-talented artist and prolific one at that. Now in his 40s, the award-winning actor still looks at his best and even looks younger than his actual age. Looking fit and healthy, Jared doesn't miss his workout routine to guarantee that he maintains a healthy body. Interestingly, the actor is also known for his extensive efforts to change his physical appearance for film roles.
For instance, he became notorious for gaining 60 pounds for his role in Chapter 27 in 2007. In contrast, he lost much weight to play a transgender woman in 2013's Dallas Buyers Club, which earned him accolades. The actor shared how it was tough for him to return to his normal weight after Chapter 27 and how it caused him psychological problems as well, making him swear to not take such roles again. Typically, Jared has a fit body, which he achieves through cycling, doing it for up to 10 miles. He also performs practice sit-ups, crunches, and even yoga to enhance his abs. He doesn't spend much time in the gym and prefers outdoor activities instead.