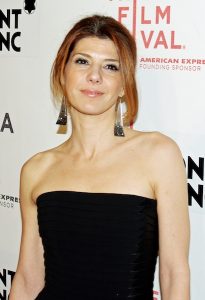 Marisa Tomei has been acting professionally since 1983. Her first ever role was as Marcy Thompson on As the World Turns. She next starred as Maggie Lauten on the NBC sitcom A Different World. In 1984, she made her cinematic debut in the movie The Flamingo Kid. Her breakthrough in Hollywood took place during the '90s. This was when she starred as Mona Lisa Vito in the movie My Cousin Vinny, for which she received an Oscar Award for Best Supporting Actress.
Since then, she's had starring performances in such films as Chaplin, A Brother's Kiss, Welcome to Sarajevo, and Slums of Beverly Hills. She continued her work in the 2000s. During this period, she had notable roles in the movies Happy Accidents, What Women Want, King of the Jungle, Anger Management, Alfie, Wild Hogs, and The Wrestler, to name a few. She also played recurring character Angie Gavin on the TV series Rescue Me.
In the 2010s, she played Kate Tafferty in Crazy, Stupid, Love, Ida Horowicz in The Ides of March, and Holly Carpenter in The Rewrite. In 2016, she portrayed May Parker in Captain America: Civil War. She reprised her role in 2017's Spider-Man: Homecoming and will continue to play the part in the upcoming sequel Spider-Man: Far From Home. She's also played Mimi Whiteman on the Fox series Empire.
The actress does not only eat clean, but she also lives an active lifestyle. These pretty much are her secrets to keeping herself on top shape. When it comes to exercising, she finds the mind-body approach the best way for her. That's why she studied yoga when she relocated to Los Angeles. She also tried belly dancing, which she has since found to be beneficial to her general health. Hence, once per week, she attends a class that's focused on the combination of meditation, music, and dance. "It's not like jogging, where you're working on your exterior. It's about feeling the interior and being at home in your body. Movement is truly transformative!," said the actress.