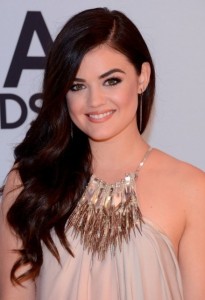 26-year-old Lucy Hale is multi-talented for being a great actress and singer. Though it was in recording that Lucy first wanted to be in, she soon found herself auditioning for roles on television with her first main role in a short-lived show in the late 2000s called Privileged. She achieved widespread recognition after landing one of the lead roles in the now popular show Pretty Little Liars. She has also acted on the big screen with her debut in The Sisterhood of the Traveling Pants 2. Recently in 2014, she went on to pursue her long-time dream of recording her own music after signing a deal with a recording label. Her first album, Road Between, received positive reviews from music critics.
The petite star is noticeable with her ventures despite her short stature. Her strong screen presence and her captivating eyes are surely part of the whole package. Being the short person that she is, Lucy is also slim, which goes well to her height apparently. Before making it big on television, Lucy had actually suffered from an eating disorder where she would not eat for days. She revealed that there were also instances where she would only eat some fruits and then spend three hours on the gym. Acknowledging that something was not right with her, she worked hard to change herself.
Now, she's into working out by running and doing yoga. Of course, she's now a healthy eater, too. During the day, she focuses on eating healthy foods to help her with her shoots. The actress said that even though she doesn't practice a specific diet, it's great that she naturally likes to eat healthy so it doesn't take much of her to stay away from tasty yet unhealthy foods. However, she admitted that if there's something she couldn't cut out from her diet, it's sweets and coffee. In addition, she also avoids eating dairy foods because she gets congested.