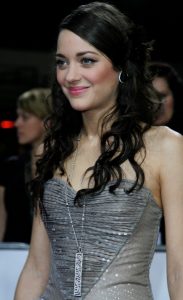 Marion Cotillard is a French actress who started acting in France and eventually gained stardom there with lots of starring performances, most notably in the romance film Love Me If You Dare. She was then acclaimed internationally for her portrayal of French singer Edith Piaf in the biographical feature La Vie en Rose, for which she won the Academy Award for Best Actress, a feat so great for a French actress. Soon after, she accepted Hollywood offers and starred in the films The Dark Knight Rises, Inception, and Nine, among others, securing her worldwide fame. Being the talented and versatile actress that she is, she was again nominated for an Academy Award for her performance in the movie Two Days, One Night in the lead actress category.
The French actress has had a slender figure since her initial career years in France. She was able to maintain this by eating clean and healthy food, avoiding unhealthy habits like smoking and drinking, and exercising regularly. Even after giving birth, Marion was able to gain back her original slim frame because she is serious and well-disciplined in practicing a healthy lifestyle. Being French, it is natural for her to opt for only nutritious food and she naturally practices moderation. Then, of course, she complements this with a regular workout routine to not only look fit but also healthy.
Basically, she goes for cardio exercises like running and even just simple walking. She likes it when she goes to to breathe fresh air and walk at the same time, boosting her strength and stamina, something that she highly needs as a busy actress and mother. Like other actresses, she changes and molds her workout routine depending on the role or character that she needs to play in a project. But normally, she just does the basic. She engages in outdoor exercises, even simple adventures, and play sports as well. Marion doesn't really strive for a very slim physique like that of a model, so she's content with doing the basic as long as it makes her fit and healthy.