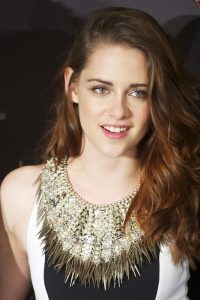 Kristen Stewart is an American A-list actress who began her acting careerat an early age, first gaining mainstream recognition as Jodie Foster's daughter in Panic Room. Other films when she was a teenager were Cold Creek Manor and Into the Wild. With her strong presence on the screen, she ultimately achieved her biggest success on the big screen after securing the role of Bella Swan in the Twilight films, movie adaptations of the best-selling novels. All these adaptations were also commercial successes all over the globe, making Kristen a huge star. She has also proved her versatility, playing adult-oriented roles in The Runaways and On the Road. Other mainstream achievements in cinema are Snow White and the Huntsman and American Ultra. She also became the first American actress to ever win a Cesar Award (French equivalent of Oscars) for Best Supporting Actress for her performance in Cloud
of Sils Maria.
The actress has always had a very slim frame since she was in her teens. So, it's not really surprising that she is still thin even up to now that she's an adult. The only difference now is that her body has apparently developed into a woman, but she's still slender basically. She's not really practicing some sort of a special diet nor is she doing any form of specific workout routine. She's young, slim, so she's not in any under pressure to work out, but she still does whenever she has the time and the chance. She tries to be physically active, apart from her work as an actress. She generally does cardio exercises, not to really lose weight, but more of attaining stamina.
For sure, Kristen is lucky enough because she has such amazing genes as her metabolism is so fast that she doesn't really gain weight. But despite this, Kristen doesn't abuse this and tries her best to stick to healthy habits, such as talking walks, running, and engaging in outdoor activities and sports sometimes. She believes that even though she doesn't need to really exercise for a thinner figure, she still needs it to be able to have sufficient energy to work efficiently as a busy actress. She also works out at home sometimes.