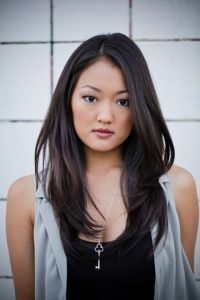 Hollywood star Amy Okuda started acting professionally as Tinkerballa on the web series The Guild. She played the said part from 2007 to 2013. While on the show, she also made one-episode roles on television, such as on Californication, Jane By Design, and Shake It Up!. She also had recurring roles on the shows Bite Me and BFFs. She then reprised her role as Tinkerballa on the music video Do You Wanna Date My Avatar. Her first ever movie role was in 2010's Spaceship Spitzer: Bots of Both Worlds.
After The Guild, she played Ashley in the feature film Chastity Bites. She went on to have guest appearances on The Middle, Crash & Bernstein, Brooklyn Nine-Nine, Grey's Anatomy, Awkward, and A to Z. She also appeared as Christine Tanaka in 2 episodes of the Amazon series The Man in the High Castle. At the same time, she had movie roles in The Wedding Ringer, Bound to Vengeance, and Hello, My Name is Doris. She then became further known for her role as Catherine Hapstall on How to Get Away with Murder. She currently plays recurring character Jessica/Gayle on The Good Place. In addition, she currently stars as Julia Sasaki on the Netflix series Atypical.
The 29-year-old actress takes care of her body and overall well-being by following a healthy diet. Though she doesn't adhere to any strict dieting habits, she makes sure she gets lots of nutrients by sticking to clean and whole foods. As much as possible, she stays away from processed and junk foods. She concentrates on strengthening her body and health through a nutritious diet plan. For her, this usually is in the form of lean proteins and veggies and fruits. She doesn't skip her meals and also makes sure she eats in moderation all the time. She has her cheat day, too, in which she allows herself to indulge her cravings.