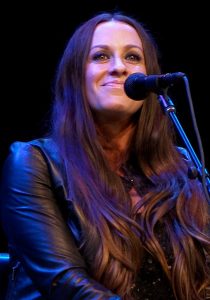 Canadian-American singer-songwriter and actress Alanis Morissette started her musical career in the early 1990s. She released her debut studio album Alanis in 1991. Her second album, Now Is the Time, came out the following year. It was, however, the third album Jagged Little Pill in 1995 that garnered her fame. It topped the charts in 13 countries and became one of the best-selling albums of all time. Jagged Little Pill also won her the Grammy Award for Album of the Year.
The album generated the hit songs "Hand in My Pocket", "Ironic", and "You Learn", to name a few. Her fourth album Supposed Former Infatuation Junkie was released in 1998. In the 2000s, she released the following albums: Under Rug Swept, So-Called Chaos, and Flavors of Entanglement. Her eight and latest album, Havoc and Bright Lights, was released in 2012. Apart from her recording career, Morissette is also an actress.
She played God in the 1999 movie Dogma. She went on to appear in an episode of HBO's Sex and the City. Following this, she had notable guest roles in the TV shows Lovespring International and Nip/Tuck. From 2009 to 2010, she played the role of Dr. Audra Kitson in the Showtime series Weeds. She recently guest-starred in the animated show Top Wing. In addition, she has performed in the movies Radio Free Albemuth and The Price of Desire.
Alanis Morissette stays in shape by following mostly a plant-based diet. She swears by a vegan lifestyle but she still eats fish, which she said comprises 20 percent of her supposedly vegan diet. "I eat a lot of fish. I'm obsessed with oysters," said the singer-actress.
"I say that with a little bit of shame because I can hear my vegan friends 'tssk tssking' right now." She also loves cooking mainly because meals are healthier when cooked at home. She particularly loves making soups. "I'm obsessed with soups… In soups, you can bury some [healthy ingredients] that may not be the No. 1 choice," she said.