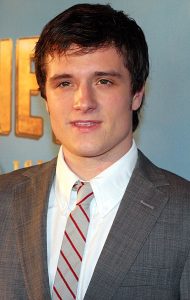 Josh Hutcherson has been in the acting business since he was a child. Due to his love of acting, he contined his career despite his young age and soon gained recognition in his teens for his starring roles in well-known films like in Zathura: A Space Adventure. His association with a couple major Hollywood productions surely did well for him and his career in Hollywood as he continued receiving more acting gigs. Though it was only recently that he achieved international fame courtesy of his portrayal of Peeta in The Hunger Games film series. The movies are based on the best-selling book series of the same name. All big screen adaptations were successful commercially and amongst critics, which made Josh and the rest of the cast huge stars.
The actor was more carefree when it came to his eating habits when he was younger, which of course is understandable. But as he grows older in Hollywood, he has since realized the importance of setting limitations and goals in order to maintain his general sense of peace and well-being. He engages in workouts and other physical exercises like sports whenever he can to ensure he maintains his stamina. With long hours on the set of any projects, he surely needs to be strong and healthy. It is already given that part of his role in The Hunger Games was training for fighting scenes.
Aside from his physical efforts requiring his energy and strength to be challenged and tested, Josh also is trying to make healthy eating a normal habit. Physical workouts should complement one's diet plan, that's why Josh has also learned to practice nutritious dietary regimen so his physical efforts to stay fit wouldn't go to waste. During his stint with The Hunger Games, the actor was focused on moderation. He didn't really set a strict limitation, but what he did was make sure he doesn't a lot. The interval of his meals was also something that he was concerned about. Basically, and even up to now, he eats fish, chicken, vegetables, fruit juices, and shakes, and sometimes pasta.