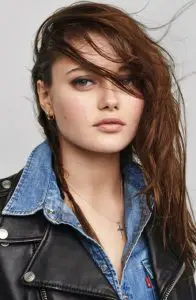 English actress Ella Purnell started acting professionally during her teens. She made her debut as the young Ruth in the 2010 film Never Let Me Go. She also appeared in the movie Ways to Live Forever that same year. Her next acting work was in the Spanish movie Intruders. In 2013, she made her Hollywood debut playing the role of Dolce in the film Kick-Ass 2. She next appeared in the movie Wildlike, as well as played the young Maleficent in the movie of the same name. She also starred on the TV film Cyberbully.
She later played the young Jane Porter in the feature The Legend of Tarzan and portrayed Emma Bloom in Miss Peregrine's Home for Peculiar Children. In 2017, she played Helen Garrett in the British film Churchill. This year, she starred on the BBC miniseries Ordeal by Innocence. She also played the lead role of Tess on the Starz series Sweetbitter. The show has been recently renewed for a second season. This also substantially introduced Purnell to a wider audience. Other works on the big screen were in the films Access All Areas and UFO.
The young actress insists that she does not follow a specific beauty routine, no diet or workouts whatsoever. In an interview, she also expressed how it's exhausting to project a perfect image when it comes to beauty and fitness. She said she doesn't have any and it's also possible she's still be figuring out what works best for her. However, she posted on Twitter some of the foods that she loves. She tweeted: "My entire diet: chicken pies, carbonara, supernoodles, sausage rolls, pesto pasta." Nevertheless, most of the time she eats healthy foods. She just doesn't overthink about her food choices, which is great because she doesn't feel the pressure to stay slim. She also doesn't deprive herself of some occasional indulgences.