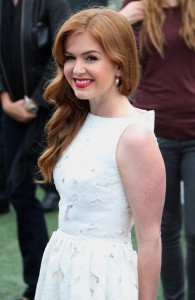 Aussie actress Isla Fisher began her career in Australia with her most notable role on the popular show Home and Away. Her first role in a Hollywood film was in Scooby-Doo (2002). She next played a supporting role in I Heart Huckabees, exposing her to wider audiences, though it was her role in Wedding Crashers (2005) that really gained her recognition. Her first lead role was in the romantic comedy Wedding Daze released in 2006. After a few more acting jobs in a couple of movies, she once again played the lead in the movie adaptation of the novel Confessions of a Shopaholic released in 2009. Though she's not as prolific as other A-list stars, Isla was able to star on the big screen consecutively during the 2000s up to the early 2010s. Other prominent works on the cinema are in The Great Gatsby and Now You See Me.
The petite actress stands at 5'3 and still looks fabulously slim despite being a mother of three. In addition to that, Isla is already 39 and will be turning 40 next year, which is quite surprising considering how young and sexy she looks. Interestingly, she's not fond of working out in a gym as she's more an outdoor type of person. The actress said she always has natural energy that allows her to move a lot, making her very active. In that case, there's really no need to hit the gym. Some of her regular physical activities are doing yoga, hiking, and swimming with her children.
However, Isla admitted that losing weight after having her baby was also a struggle for her. She gained 65 pounds with her first child and 70 pounds with her second. When she was pregnant, she would often eat supersize bowls of white pasta with loads of butter and cheese to deal with her nausea. She would also eat cornflakes, Häagen-Dazs ice cream, and scones with jam and cream late at night to suffice her pregnancy cravings, which led her to gain so much weight after giving birth. To lose weight, she worked with a trainer three times a week to prepare her for her role in Confessions of a Shopaholic.