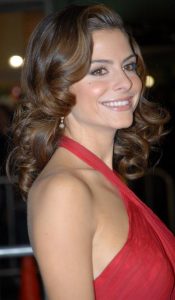 Greek-American actress and TV host Maria Menounos first worked as a host of Channel One News. She later became a correspondent for Entertainment Tonight from 2002 to 2005. She also ventured into acting, making her debut with a small role in the movie Fantastic Four. On television, her first notable role as an actress was as Emily "Jules" Chambers in One Tree Hill.
Following this, she starred in the film Kickin' It Old Skool. From 2005 to 2011, she then worked as a correspondent for Access Hollywood. She also guest-starred in the television shows Scrubs and Knight Rider. Subsequently, she hosted the shows The Challenge and The Real World. She continued her work on television in the 2010s, working on the news show Extra. In 2012, she appeared as a contestant on Dancing with the Stars' Season 14. As of 2013, she co-hosts the show Live from E!.
Maria Menounos turns 40 this year but she remains youthful and slender. This is because the celebrity focuses on a clean diet plan and she does so on a regular basis. For one, she tries her best to concentrate her diet on plant-based foods. "I'm an aspiring vegetarian. I try to eat the least amount of meat as I can, " she said. The celebrity also got candid about her typical food options. "Most mornings I start with a smoothie. My favorite has Greek yogurt, almonds, apple, banana, cinnamon, and a little bit of skim milk," she said.
For lunch, Maria prefers having "green salad, topped with chicken or tuna." Her snacks are healthy, too, and they usually consist of "almonds, a banana, or Greek yogurt." For dinner, the actress said it changes all the time. Sometimes, she has "quinoa salad or chicken or fish with vegetables." She also tries to balance her eating habits with some treats every now and then. She explained: "I really do try to aim for a 75-25 rule for eating. If I ate clean all day and I'm watching a movie later that night, I'll have a few Kit Kat Bites or some popcorn, and I'm not going to feel bad about it."