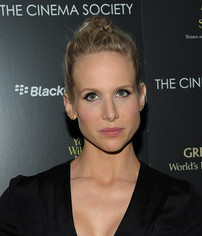 Actress Lucy Punch first appeared in an episode of The New Adventures of Robin Hood. After this, she starred as Sue White in the sitcom Renford Rejects. She later had notable guest appearances in such shows as Days Like These, Let Them Eat Cake, and Big Bad World. In 2000, she made her first film role in Greenfingers. She next had recurring roles in the TV shows The 10th Kingdom and Doc Martin.
In 2004, Punch had roles in three films: The Life and Death of Peter Sellers, Ella Enchanted, and Being Julia. Later, she starred as Holly Ellenbogen in the CBS sitcom The Class. During this period, she also had an active film career with performances in Festival, Hot Fuzz, and St Trinian's. Later in the 2010s, she joined the main cast of the short-lived series Ben and Kate as BJ.
She then landed the part of Amanda in the British show Motherland, which she still plays up to present. Punch also starred as Esmé Squalor in Netflix's A Series of Unfortunate Events. The actress simultaneously had performances in numerous films, including Elektra Luxx, You Will Meet a Tall Dark Stranger, Dinner for Schmucks, Take Me Home Tonight, and Bad Teacher. She went on to play supporting roles in Into the Woods, Cake, The Meddler, The Female Brain, and You, Me and Him.
Lucy Punch takes care of herself by following a healthy lifestyle. This doesn't mean that she spends countless hours doing grueling workouts in the gym, though; neither does she believe in strict diets to stay skinny.
For her, it's all about eating well and staying active. "If the role demands it, I'll go to the gym. And here everyone goes to the gym. But I eat well and I'm not into dieting," said the actress. For instance, for her role as Charmaine in Woody Allen's You Will Meet a Tall Dark Stranger, she got into the Bar Method, a course of ballet fitness classes to prepare for her role.