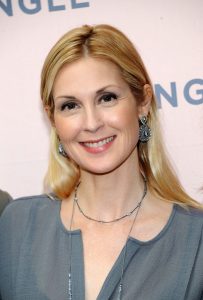 Kelly Rutherford's career spans decades, starting in 1987 when she debuted on the soap opera Loving. She next starred as Stephanie "Sam" Whitmore in the NBC soap opera Generations. She later had small roles in the films Shakedown and Phantom of the Mall: Eric's Revenge. In the '90s, she played Judy Owen on the ABC series Homefront. After this, she played Dixie Cousins on the Fox show The Adventures of Brisco County, Jr. She also played a supporting role in the film I Love Trouble, after which she played recurring character Christine Lunden in Courthouse. Her next roles were in the made-for-television films No Greater Love and Buried Secrets.
She came to wider prominence after landing the role of Megan Lewis Mancini in the primetime soap opera Melrose Place. She played the role from 1996-1999. Following this, she had a 4-episode role as Laura Martineau in the Fox series Get Real. In the 2000s, she first played Helen Kimble in The Fugitive and Melinda Lockhart in The District. She also starred as Christine Hamilton in the movie Scream 3, as well as appearing in the movie The Chaos Factor. She starred in the short-lived shows Threat Matrix and E-Ring prior to gaining more success for her role as Lily van der Woodsen in Gossip Girl. She has since had recurring roles in such shows as Being Mary Jane, Reckless, and recently, Dynasty.
The long-time actress not only eats well, but she also stays active as part of her healthy lifestyle. When asked about her go-to workouts in an interview, she said: "Yoga and anything that does not make me think I am exercising. Like tennis, golf, and skiing." She also loves to meditate and get massages. As for her, exercising isn't about hitting the gym. It's all about being active by doing things that are fun.