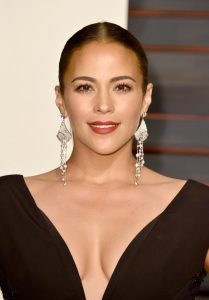 Paula Patton was already in her 30s when she started her film career with a small role in Hitch. Because of her strong presence on the screen, she successfully landed other roles in the next few years, until she got her major breakthrough as the female lead in the movie Déjà vu. Her performance in the film certainly exposed her to wider audiences in the world. Her next films were released a few years later. These are Mirrors and Swing Vote. She then gave a critically acclaimed performance in the drama film Precious. Later on, she joined the main cast of the action thriller, Mission: Impossible – Ghost Protocol, earning her further stardom. She followed this with performances in Disconnect, 2 Guns, Baggage Claim, and About Last Night. She then ventured into producing with the movie The Perfect Match while starring in it as well. Her most recent movie is 2016's Warcraft.
Robin Thicke's former wife seems to be looking better as she ages. She's now in her 40s, but apparently her appeal is that of a woman in her 20s. Being a mother of one and being busy with her acting career, it is truly amazing how Paula can manage to take care of herself that results to her being glowing and hotter at the same time. Aside from working out regularly, the beautiful actress makes sure she only eats clean and nutritious food.
For her role in Mission: Impossible – Ghost Protocol, she underwent a more disciplined diet because she needed to be leaner and more agile for her role where she needed to shoot a lot of action scenes. She practiced moderation in everything that she ate and focused on eating veggies and fruits most of the time.
To have leaner muscles, she also consumed more proteins as well as healthy fats and carbohydrates. Amazingly, she has since incorporated a healthy diet into her normal eating habit.