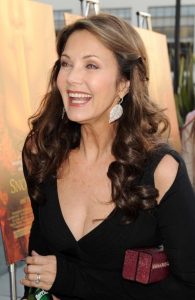 Lynda Carter was first a beauty pageant titleholder, winning the Miss World America 1972. She competed in the Miss World pageant and finished as a semi-finalist. She then ventured into acting, debuting on the show Nakia in 1974. She rose to fame for starring as Wonder Woman/Diana Prince on the television series Wonder Woman, which she played from 1975 to 1979. During this period, she also made her big screen debut in the 1976 film Bobbie Jo and the Outlaw. During the '80s, she mostly worked on made-for-television films.
This includes Hotline and Rita Hayworth: The Love Goddess — the latter of which she played the titular role. She then starred on the short-lived series Partners in Crime. In the '90s, she starred as Elizabeth Shields on the TV show Hawkeye. The following decade, she had roles in the films Super Troopers, The Creature of the Sunny Side Up Trailer Park, Sky High, and The Dukes of Hazzard. As of 2016, she has a recurring role as U.S. President Olivia Marsdin on Supergirl.
The original Wonder Woman stays in shape by focusing on a healthy diet and practicing portion control all the time. That's why even when she's already in her 60s, she's still amazingly slender, fit, and youthful. In an interview, she said about her diet: "I eat whatever I want, I just cut down on the portion size. It's all about portion control, portion control, portion control. I have a better relationship with food now, but I struggle with my weight."
Moreover, the actress also shared how she limits her consumption of gluten and dairy. She tries to cut them down from her diet plan as often as possible. Instead, she eats organic foods like meat and chicken that are grass-fed. She also snacks on healthy foods more often and generally stays away from any processed foods.