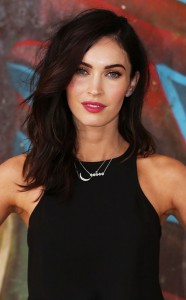 American actress Megan Fox began as a nobody in Hollywood, appearing as an extra in a few movies and moved on to getting one-episode roles on television shows. Her first notable role was as Lindsay Lohan's antagonistic rival in Confessions of a Teenage Drama Queen released in 2004. After that, she became a series regular on the sitcom Hope & Faith, somehow gaining recognition among television audiences in the mid 2000s. The show ended in 2006, but it opened greater opportunities for Megan, particularly after being cast in Transformers, which became a smash hit upon its release in 2007, exposing Megan to worldwide moviegoers and cementing her fame. She reprised her role in Transformers: Revenge of the Fallen, released in 2009. Megan has since starred in other movies, including Jennifer's Body, Jonah Hex, and This Is 40. She recently headlined the latest reboot of Teenage Mutant Ninja Turtles in 2014.
The 29-year-old actress instantly became memorable for her physical appearance since her breakthrough in Transformers. Standing at 5'4, Megan has a slender figure and considering the action films she's been into, it is only fair to assume that she's also fit, strong, and agile. Aside from following a workout routine to maintain her body and overall well-being, Megan also practices a diet plan called the 5 Factor Diet. This means she eats five, small meals per day. In this way, she can satisfy her hunger without consuming too much. Of course, there's one day in a week where she can indulge into her cravings. We usually call it the cheat day. Basically, the actress avoids eating processed and junk foods like potato chips, white bread, crackers, and whole grain foods.
She eats lots of fruits and veggies and consider them her source for carbs. Megan is also noted for treating her breakfast her most important meal of the day that she never misses it. She's fond of eating eggs in the morning. She eats almonds as her source of Vitamin E and antioxidants. Almonds are also good replacement for other heavy-packed foods when it comes to losing weight. When she needs to lose weight, she turns to apple cider vinegar as part of her salad. Of course, Megan knows she only needs to consume very tiny amount of it as it's naturally very acidic.