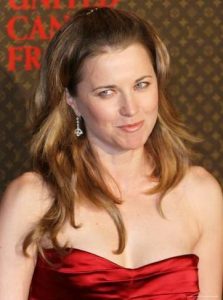 It was in 1989 that New Zealand beauty Lucy Lawless got her acting start. She became more active the following decade. During the '90s, she made numerous guest appearances. She then played Xena in Hercules: The Legendary Journeys. She reprised the said role in Xena: Warrior Princess, which became her breakout role. This also got her international recognition. After the series ended in 2001, she played Kathleen Clayton in Tarzan.
She then became known for playing D'Anna Biers in Battlestar Galactica. In the 2010s, she portrayed Lucretia in Spartacus: Blood and Sand, Spartacus: Gods of the Arena, and Spartacus: Vengeance. She's also appeared as recurring character Diane Lewis in Parks and Recreation. More recently, she played Countess Marburg in the series Salem. As of 2015, she stars as Ruby Knowby in the series Ash vs. Evil Dead. As a film actress, she's acted in the movies EuroTrip, Boogeyman, Bedtime Stories, and Bitch Slap.
She's recently turned 50 this year but looking at the actress, it's amazing how she's able to maintain her slender and toned body. Audiences already know her as the titular character in Xena: Warrior Princess and even years later, she's able to stay in shape. Given this, her fans wonder what her workout routine is. Because the actress typically plays tough female characters in shows and movies, training for a role isn't something new to her. In fact, working out and engaging in other physical activities is a normal part of her daily life.
This is one of the main reasons why she's able to maintain her fitness all these years. Reports said that Lucy basically relied on Pilates to get in shape for her character as Xena. She has continued doing Pilates since then as this has helped her improve her strength, flexibility, and stamina. In addition to Pilates, Lucy also does interval training, weight lifting, and some cardio exercises like running and jogging.