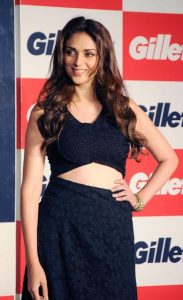 Indian star Aditi Rao Hydari got her career beginnings in the mid 2000s. She first worked in Malayalam cinema with the movie Prajapathi. Playing a devadasi in the movie, she garnered attention and was also praised for her performance. It was however her role in Yeh Saali Zindagi that cemented her fame. For her role here, she won the Screen Award for Best Supporting Actress. Subsequently, she starred in some other Bollywood films. This include Rockstar (2011), Murder 3 (2013), Khoobsurat (2014), Wazir (2016) and Fitoor (2016). All these feature films were commercially successful, earning her further prominence. She has two upcoming films this year.
The actress continues to receive attention for her performances on the big screen. She does this with her great talents and appealing looks and personality. Because she wants to stay beautiful and healthy, she makes sure she eats right and works out as regularly as she could. She does this by going to the gym whenever she has time where she work out about four times a day. At the gym, she mostly involves cardio, strength and weight lifting exercises in her regimen.
In addition, she also practices yoga an hour each time. This helps her soothes her mind and body as well. She says it helps her find balance that helps in improving her overall wellness. As much as possible she also stays active in general. She walks and runs a lot and doesn't like being a couch potato. Being active helps her retain and strengthen her energy and endurance. That is why she's able to do intense workouts at the gym, because she has the force and the stamina. Whenever she misses her workout session, she tries to make up for this by running on the treadmill for about an hour. With her healthy workout regimen, it's no wonder the actress has a slender and toned physique.