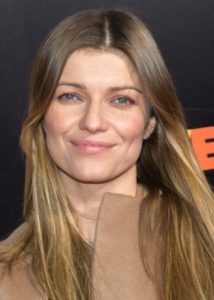 Hollywood star Ivana Miličević had her career beginnings in 1995 with an uncredited role in Children of the Corn III: Urban Harvest. Her first credited role was in 1996's Jerry Maguire. On TV, she had her first role in an episode of Seinfeld and went on to play recurring character Private Lana Povac in The Army Show. She also appeared in 2 episodes of Felicity. At the same time, she had roles in the films Postmortem, Kiss the Sky, and October 22. In the 2000s, she landed parts in the films Vanilla Sky, Down with Love, Love Actually, Paycheck, Frankenstein, Just Like Heaven, and Running Scared.
Her subsequent roles were in The Plague, Casino Royale, and Battle in Seattle. Back on TV, she starred in the short-lived series The Mind of the Married Man as well as played Angelique Bouchard in the pilot Dark Shadows. She was a recurring character on the show One on One as Ranya Ranya Rochenko and had starring roles in the short-lived shows Love Monkey, 12 Miles of Bad Road, and Fallen. She gained mainstream recognition in the 2010s for her role as Anastasia / Carrie Hopewell in the Cinemax series Banshee. Afterward, she starred as Maria Kyle in Gotham and Charmaine Diyoza in The 100. Her latest film role was in 2017's The Misogynists.
The 44-year-old actress stays in shape by practicing a healthy lifestyle, including a clean diet plan, of course. Surprisingly, one of her health tricks is eating rice. According to her, eating rice has helped her achieved a more toned figure. Nonetheless, it doesn't mean that she munches on rice in huge servings. There's still balance and moderation that plays a crucial role in her diet. The bottom line is that the Banshee star is not afraid of having some carbs. Other foods that are part of her regular diet plan are veggies, fruits, and nuts.