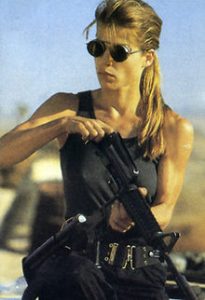 In 1980, actress Linda Hamilton debuted in an episode of the TV series Shirley. That same year, she also starred as Lisa Rogers in the CBS soap opera Secrets of Midland Heights. After this, she starred in another soap opera, ABC's King's Crossing. Meanwhile, on the big screen, she had her first role in 1982's Tag: The Assassination Game. She next appeared in the film Children of the Corn before getting her big break as Sarah Connor in 1984's Terminator.
Later in 1987, she starred as Catherine Chandler in the CBS series Beauty and the Beast. In the 1990s, she reprised her role as Sarah Connor in the Terminator sequel Terminator 2: Judgment Day. The rest of the '90s saw her perform in the films Silent Fall, Separate Lives, Dante's Peak, Shadow Conspiracy, and The Secret Life of Girls.
She also starred in some made-for-television films around the same time. In the 2000s, Hamilton had performances in the films Smile, Missing in America, The Kid & I, and Broken. On TV, she also starred as Carol in The Line and Mary Elizabeth Bartowski in Chuck. Her most recent work on television was as Pilar McCawley in Defiance. She will reprise her role as Sarah Connor in the upcoming sequel Terminator: Dark Fate.
Linda Hamilton's transformation for The Terminator sequel in 1991 was pretty remarkable. Of course, this coincided with her character developing into a bad-ass woman from the helpless Sarah Connor in the first film. To prepare for this, she had a 3-hour workouts which consisted of cardio: running, biking, swimming, and stair climbing.
Another crucial part of her workout routine was also free weights and abdominal series to achieve a much scuplted figure, which surpised Terminator fans. Now in her 60s, Hamilton continues to live an active lifestyle with regular exercises that include running, walking, and yoga.