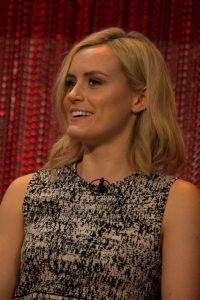 Hollywood actress Taylor Schilling started her career in the mid 2000s. Her first acting gig was in the movie Dark Matter. She next joined the main cast of the short-lived medical drama series Mercy. In the 2010s, she became known for her starring roles in the films Atlas Shrugged: Part I and The Lucky One. She also played a bit part in Argo. Her major breakthrough was as Piper Chapman on the Netflix series Orange Is the New Black. She has been playing the said part since 2013. For her role, she got a Primetime Emmy nomination for Best Actress. While on the show, she has simultaneously starred in the movies The Overnight and Take Me.
The 33-year-old actress maintains her slender and toned figure by practicing a healthy lifestyle. Aside from eating healthy, she also works out to keep her body physically active. With her nude scenes on Orange Is the New Black, she kind of becomes more required to take care of her body, not only to look great to also feel stronger. In an interview, she opened up about her nudity on screen and what she does to make herself more comfortable about it.
She said: "I take care of myself lovingly and caringly, without extreme measures, and I want to tell an honest story, so that means I also want to share my body honestly. I kind of made a conscious effort to not make it about my body but about the story instead. I don't do detoxes or cleanses, they don't really work for me. I have a really moderate, simple routine. I like to do yoga, Pilates, dance, and things like that. I didn't change up my routine for the role. I wanted to be as I was."
Sharing her love of yoga, she added: "I started doing yoga in college, so that has just become a staple of a self-care routine for my mind and my body. My body craves it at this point so I do it two to three times a week, sometimes more. I practice Vinyasa style yoga and sometimes mix it up. I also started Pilates on the reformer, which is really fun. I can literally feel my muscles working and being transformed".