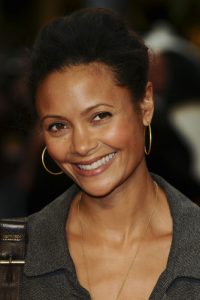 Thandie Newton is an English actress who has been in the industry for several years. Starting out in lesser-known projects and indie movies like in the movie Flirting, she eventually gained recognition in Hollywood after securing the female lead in Mission: Impossible II where she was paired with A-list actor Tom Cruise. The box office success of the movie garnered the actress much widespread attention among international moviegoers. After this, she delivered a noteworthy performance in the Academy Award Best Picture winner Crash, in which she was able to bring significant attention upon herself as an actress. She has since starred in other well-known movies, continuing her prolific career in Hollywood. In the 2010s, she starred in the disaster feature film 2012.
Already in her late 40s, it is obvious how the beautiful actress stays in shape and maintains her appeal. And no, this isn't plastic surgery. Thandie Newton's secret into staying healthy and beautiful has something to do with her healthy eating habits. Naturally, the actress is not getting any younger, so she's aware that maintaining a healthy diet is now a necessity. It wasn't like before when she was younger where she could eat anything she wanted. Aside from the importance of her maintaining her weight, it is also essential for the actress to stay strong and stay fit to help her with both her personal and professional life. With this, she carefully selects her food everyday. She doesn't think of it as being strict and depriving herself of enjoyment as she doesn't see it that way.
For her, practicing healthy habits is like practicing long-term happiness. After all, physical ailments brought by unhealthy lifestyle hinder one's happiness, right? For breakfast, she starts it right with veggie shakes, and sometimes eggs and oatmeal. She believes the importance of energizing in the morning, so she also some fruits. The actress thinks that starting the day right contributes in the greatness of the day ahead. For lunch, she usually has chicken and salads, or pasta and salad. At night, she seeks for more protein so she eats seafood partnered with veggies. In between meals, Thandie snacks on almonds and other nuts, yogurt, fruits, smoothies to keep her full, energetic, and healthy at the same time. She also has a cheat day for eating sweets like brownies and she indulges herself in pizza occasionally.