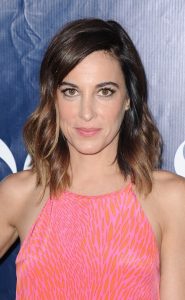 Hollywood star Lindsay Sloane had her career beginnings when she debuted as Alice Pedermeir on the ABC series The Wonder Years. She next played recurring character Zoey Miller on Mr. Rhodes. In 1999, she made her big screen debut in the film Seven Girlfriends. During this period, she also gained recognition for starring as Valerie Birkhead on the ABC show Sabrina the Teenage Witch. She played the said role from 1997 to 1999. In the 2000s, she first appeared in the films Bring It On, The In-Laws, Exposed, and The TV Set. She also starred as Marcy Sternfeld on the short-lived series Grosse Pointe.
She went on to have a recurring part as Sasha Hoffman on the ABC sitcom Help Me Help You. She later had supporting roles in the films Over Her Dead Body, The Accidental Husband, and The Six Wives of Henry Lefay. In the 2010s, she had performances in the movies She's Out of My League, The Other Guys, and A Good Old Fashioned Orgy. She also became known for her supporting role as Stacy Arbus in the movie Horrible Bosses and its sequel Horrible Bosses 2. From 2015 to 2017, she also became known for her starring role as Emily on the CBS sitcom The Odd Couple as well as for her recurring role as Tina Steigerman on the USA Network show Playing House.
The 42-year-old actress stays in shape by sticking to a healthy lifestyle. For her, that entails being conscious of the foods she eats. While she knew she was less cautious when she was younger, it's a different story now that she's in her 40s. She tries her best to avoid anything processed. She focuses on having natural foods that are healthy and nutritious, which don't only help her maintain her healthy weight but also help her feel good on the inside. Every now and then, she still allows herself to indulge her cravings, such as pizza and cakes. She just makes sure that she does so in moderation.