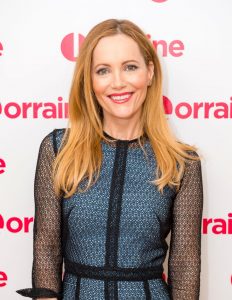 It was in 1991 that comedic actress Leslie Mann got her start in Hollywood. Her first role was in the movie called Virgin High where she appeared as an extra. She next had a small role in an episode of Birdland. Her first credited role was in the 1996 film She's the One. That same year, she gained recognition for her role as Robin Harris in the black comedy feature The Cable Guy. She later starred in the movies George of the Jungle and Big Daddy.
By the 2000s, she landed more starring roles, particularly in the comedy genre. She starred in Orange County, Stealing Harvard, The 40-Year-Old Virgin, Knocked Up, Drillbit Taylor, 17 Again, and Funny People. Many of these films of which her husband Judd Apatow had directed. In the 2010s, she first played Gina Winthrop in the animated sitcom Allen Gregory.
She went on to star in the films I Love You Phillip Morris, Little Birds, The Change-Up, This Is 40, The Bling Ring, The Other Woman, Vacation, How to Be Single, and The Comedian. More recently, she starred in the sex comedy film Blockers and the drama film Welcome to Marwen. She will star in the upcoming crime drama feature Motherless Brooklyn. Mann is also a voice actress, most notable for her role as Linda Gunderson in Rio and Rio 2.
The actress takes care of her body and her overall well-being by being mindful of her diet. Apart from her workout routine, she makes sure she stays healthy through proper nutrition. In an interview with New Beauty, she got candid about some of her diet tricks. "I try to drink a lot of water and I'm really into all of those 'goop things.' I'll do the detox diet, which is really good," said the actress.
"I don't even know what's in it, but the food tastes really good, and after a few days, you notice your face isn't as puffy as it was. You're still using salt, oil and all of the good stuff, but then you suddenly start looking better. That's what I do when I have to get ready for something." Plus, the This Is 40 star also revealed she's into protein powder and supplements.