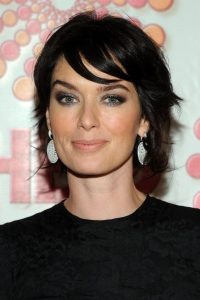 English actress Lena Headey had her career beginnings in the early 1990s, debuting in the film Waterland. She later had roles in The Remains of the Day and Century. She next starred as Katherine "Kitty" Brydon in the 1994 film The Jungle Book. This was followed by a couple of British movies. She also played Colette on the British crime drama series Band of Gold. In the 2000s, she had performances in the films Gossip, Possession, Ripley's Game, The Brothers Grimm, and The Cave.
In 2008, she co-starred with Gerard Butler as Gorgo, Queen of Sparta in Zack Snyder's 300. Her next role was in the movie The Contractor starring opposite Wesley Snipes. She went on to play Sarah Connor in the Fox series Terminator: The Sarah Connor Chronicles. In the 2010s, she gained widespread popularity for her role as Cersei Lannister in HBO's Game of Thrones, which she starred in from 2011 to 2019.
Headey simultaneously starred in the movies The Purge, The Mortal Instruments: City of Bones, 300: Rise of an Empire, Zipper, and Pride and Prejudice and Zombies. She's also a prolific voice actress with roles on the animated shows Uncle Grandpa, Danger Mouse, Trollhunters, and Rise of the Teenage Mutant Ninja Turtles. She recently portrayed wrestler Julia Bevis in the 2019 movie Fighting with My Family.
For years, the actress was a vegetarian. However, she revealed in an interview back in 2011 that she's started eating meat again. Nonetheless, she also said that while meat is no longer excluded from her diet, she only eats very rarely. Her diet is still mainly plant-based with occasional eating of protein-rich foods, but mostly fish and chicken. Moreover, she stays in shape by being mindful of the foods she eats. Hence, it's always healthy meals for her.