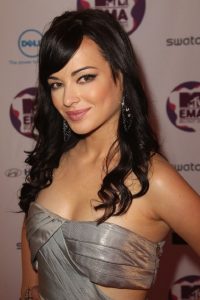 Hollywood actress Ashley Rickards got her start in the mid-2000s. She made her debut with a small role on Everybody Hates Chris. She later made notable guest appearances on CSI: NY, Zoey 101, and Ugly Betty. She later became known for her recurring character as Samantha "Sam" Walker on One Tree Hill, which she played from 2008 to 2009. She next made her big screen debut in the movie Gamer. She also guest-starred on Entourage and Outlaw.
In the 2010s, she rose to fame for playing the lead role of Jenna Hamilton on the MTV series Awkward. She starred on the show from 2011 to 2016. While on the show, she also became active in the movies. She had performances in Fly Away, Struck by Lightning, Sassy Pants, At the Devil's Door, A Haunted House 2, and Behaving Badly. Her latest film role was in 2017's The Outcasts and Antisocial.app. In addition, she appeared as Chloe in 2 episodes of American Horror Story: Murder House and guest-starred on Dimension 404. She also played recurring part Rosa Dillon/Top on The Flash.
In her book, the actress shared about her struggles with eating disorders, which she said she had suffered from when she was little. Her condition worsened during the start of her show Awkward but she ultimately found the courage to seek help. Now, she's learned to manage it through a combination of a healthy diet, exercise, and meditations. As for her diet, she tries her best to focus on eating clean and whole foods. Her meals mostly include lean proteins such as fish and chicken, whole grains, and fiber-rich foods such as fruits and veggies. Even her snacks are packed with nutrients, too. She prefers snacking on nuts, fruits, yogurts, and smoothies. She does have cravings, too, but she now knows better than to overindulge. Most of the time, the actress eats in moderation.