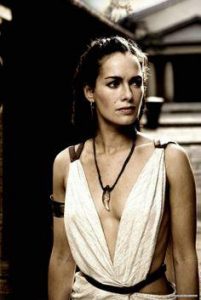 British star Lena Headey began her show business career with minor to supporting roles in the 1990s. She ultimately became noticed in Hollywood for her role as Angelika in The Brothers Grimm and for playing Gorgo, the Queen of Sparta in 300. Venturing to television, she portrayed Sarah Connor on Terminator: The Sarah Connor Chronicles, exposing her to wider TV audiences. Worldwide fame followed courtesy of her role as Cersei Lannister on Game of Thrones. While on Game of Thrones, she had starred in The Purge, The Mortal Instruments: City of Bones, 300: Rise of an Empire, and Pride and Prejudice and Zombies.
The beautiful Lena Headey is in her 40s and is also a mother of two but it cannot be denied that her figure still looks like someone who's in her 30s. Throughout her career, she has played roles that required her to be physically lean and agile, which she was able to do through a healthy workout regimen. The physical efforts that she put into her role as the Queen of Sparta in 300, for instance, was incredible. Then she needed to play Sarah Connor on television, another kick-ass female character that entailed her to be engaged in various action-oriented scenes for a couple of years.
And now she plays the manipulative Cersei Lannister on Game of Thrones, which needed her to stay slim for the duration of her role. For one, she's very vocal about her love of yoga and boxing, which surely has helped her achieve her amazing body. According to the actress, she got obsessed with boxing as a form of fitness that she'd do it every day when she's not working. The outcome was obviously fabulous. If one puts his/her heart into it, the health and even the physical benefits just follow. "It's just an insane sport when you get into it," she added.