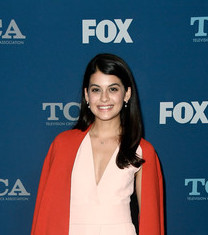 Hollywood star Sofia Black-D'Elia started her professional career in 2009. Her first role was as Bailey Wells in the soap opera All My Children. She was part of the show's main cast until the following year. After this, she landed the role of Tea Marvelli in the American remake of the British series Skins. It aired on MTV in 2011 but only lasted one season. She later played recurring character Natasha "Sage" Spence in The CW's Gossip Girl.
Later in 2013, she made her cinematic debut with the film The Immigrant. That same year, she appeared as Jules Whitman in some episodes of the ABC series Betrayal. The following year, she acted in the independent movie Born of War. She was then cast for the role of Erin Calder in the short-lived The CW series The Messengers.
It aired in 2015 for a single season. After this, the actress had performances in such films as Project Almanac, Viral, and Ben-Hur. She also played the role of Andrea Cornish in the HBO miniseries The Night Of. From 2017 to 2018, Black-D'Elia starred as Sabrina Pemberton in the Fox sitcom The Mick. It was recently announced that she joined the main cast of the upcoming CBS series Your Honor starring Bryan Cranston.
Sofia Black-D'Elia stays fit and healthy sans any strict diet tricks. As a certified foodie, she hates avoiding foods or meals she loves. Most of the time, however, she prefers clean, whole foods. She still allows herself to indulge in her cravings every now and then. She also limits her portion of food.
She understands the importance of moderation; that's why she almost never overeats. Overall, the actress' diet plan is simple. It consists of fresh, healthy foods that nourish her body. These are mostly fish, chicken, fruits, and vegetables. From time to time, she enjoys food by moderately indulging in pizza, fries, sweets, and more.