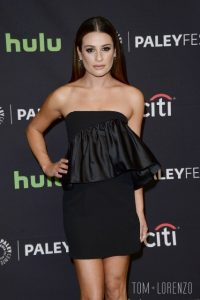 Hollywood star Lea Michele was a Broadway performer when she was noticed and discovered by Glee creator Ryan Murphy. She started acting on the stage at age eight. She then starred on the TV series Glee as Rachel Berry, beginning in 2009 until its season finale in 2015. Not only was it her breakout role on television, she was also critically praised for her performance, earning her various nominations. Simultaneously, she began a movie career beginning with the ensemble romantic comedy New Year's Eve. She went on to begin her solo singing career, releasing her first single Louder with the lead single "Cannonball". Her present work on TV is on Scream Queens.
The actress-singer may only be short in stature, but she surely is fit, lean and healthy considering her petite frame. Her entire body looks so toned that it's amazing how the actress can keep up with her busy life to genuinely take care of herself. Because she already spends so much time on the set rehearsing for performances and filming as well, it becomes challenging for her to hit the gym, that's why her alternative is a 20- to 30-minute high-intensity intervals to enhance her fitness.
One routine that Lea likes is yoga. With the pressures of being an actress and singer, she uses yoga to rid herself of stress and improve her flexibility. It's also important for the former Glee star to maintain the strength of her muscles. To achieve this, she does weight training either with resistance bands or medicine balls. Of course, nothing's more natural than engaging oneself in outdoor activities, which is way so much better because you get to integrate yourself with nature. Lea knows this so she makes sure she goes out for some fun whenever she's free. She typically opts to go rock climbing and trekking.