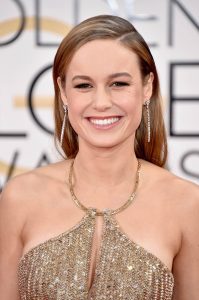 American actress Brie Larson first got her break on television for starring on Raising Dad. Throughout the years, she acted on both film and TV with minor roles on the big screen. She ultimately landed another regular role on United States of Tara. It was also in the 2010s that she became more recognized by moviegoers with roles in 21 Jump Street, Don Jon, and The Spectacular Now. After playing a recurring role on the comedy series Community, she won acclaim for her performance in the movie Room, which got her her first Oscar for Best Actress. She has two upcoming films.
The 27-year-old star was definitely amazing in Room, thus, she deserved her Oscar win, no doubt about it. But for her to effectively portray the role of a woman held captive for many years with her son, Brie knew she had to do something physically to look the part. Basically, she had to change her eating habits to meet her character's limited diet in the film. She needed to slim down to look malnourished and she took the efforts to really reduce her meals and engage in a restricted diet plan to achieve this. According to the actress, she ate six small, bland meals per day and she could eat 2-3 things only.
About her experience undergoing a restricted diet, she said: "At first I liked it because I knew exactly what I was going to have, there's some beautiful safety in knowing exactly how much you're going to have and what time you'll have it, but then I started to feel trapped by it. There's a sense of frustration and longing — wanting something different and something more." Being devoted to her character, she also didn't take her vitamin D supplements and other nutrients as her character in the movie wouldn't have access to such. Luckily for her, it was all worth it because she got the Oscar trophy and the recognition of the entire industry.