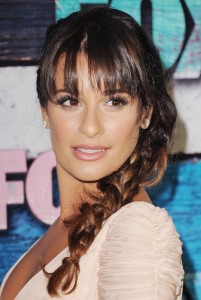 Glee star Lea Michele began her career on Broadway and eventually became a prolific stage actress. She was so passionate in acting she made her stage debut at age eight. As a Broadway actress, she was critically lauded for her performance of Wendla Bergmann in Spring Awakening, getting her a Drama Desk Award nomination in the outstanding actress category. Her being a stage actress led her to be cast for the role of Rachel in Glee, which not only got her widespread recognition, but also earned her critical acclaim, receiving Primetime Emmy and Golden Globe nominations for the lead actress category. Being a singer, she officially ventured recording and went on to release a studio album. She's currently playing a starring role in Scream Queens.
Known not only for her singing voice but also for her short stature, Lea is certainly a household name. She's also noticed for her beautifully toned body, which she maintains through regular exercises and healthy diet. Basically, the actress doesn't eat a lot because it wouldn't be proportional to her small body. Interestingly, Lea alternately practices vegan and non-vegan diet. For instance, she'd have vegan diet for two months and then switch back to her normal eating habit afterwards. The singer-actress, however, admits that she feels better when only eating vegan foods.
She also reveals that practicing vegan diet helps her lose weight and become the slender woman that she is now, and most importantly, it helps her become healthier by keeping her away from inflammatory infections like stomach pain. In addition, she follows liquid dieting for a few days as means of flushing the toxins out of her body. When asked about crash dieting, the actress is not a fan as she doesn't want to starve herself for the sake of instant weight loss. Lea also doesn't drink coffee and even tea. She mainly relies on drinking water and green smoothies.