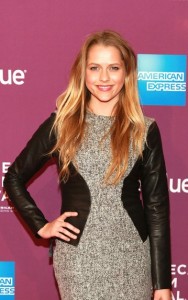 Aussie actress Teresa Palmer started her career in her native country with a strong performance in 2:37 (2006). Despite having to struggle for a recognition in Hollywood, she still managed to do so with roles in The Grudge 2 and December Boys. Her hard work accompanied with disappointments paid off as she scored a main role in The Sorcerer's Apprentice (2010), which exposed her to a wider audience. She continued scoring main roles in the movies I Am Number Four, Take Me Home Tonight, and Wish You Were Here. Her cinematic success in Hollywood somehow improved with her performance in Warm Bodies (2013). Her most recent work on the big screen are in Parts per Billion and Kill Me Three Times. She also has got several movies coming.
The Australian beauty is noticeably slender. Standing at about 5'6, Teresa continues to have a promising career in Hollywood courtesy of her talent and great looks. For her role in I Am Number 4, the actress worked hard to enhance her body. Apart from a more rigorous workout routine, she engaged herself into a more strict diet by only eating nutritious foods like fruits, veggies, and proteins through fish and nuts. She resorted into this dietary regimen instead of practicing crash diets to lose weight.
Crash diets, to be exact, mean practicing a method that allows one to lose weight quickly. From the sound of it, it doesn't seem healthy at all. So, Teresa said no. Instead, she wanted to do it slowly. She deliberately eliminated refined sugar, fried and processed foods, dairy products, and junk foods. She also avoided eating foods that taste good but makes her tired. Interestingly, she almost practices a vegan diet, except she eats fish, specifically grilled or poached fish. She's also fond of foods rich in healthy fats such as walnuts, hemp seeds, and almonds.